Since 1980, CYOA has earned a reputation of excellence in the charter industry, specializing in Virgin Islands sailing vacations. They are small by choice and proud to offer highly personalized service. The folks who run the show at CYOA are residents of the Virgin Islands and come from many different walks of life. The yachts available for bareboat or crewed charters are first class and well maintained. CYOA offers reasonable rates year round as well as some of the best specials! CYOA's goal is to have you experience the vacation of a lifetime.
CYOA is on the island of St. Thomas, in a small community called Frenchtown just west of the main harbor of Charlotte Amalie. The small marina houses CYOA's bareboat fleet, private vessels, and visiting yachts. Marina facilities include clean rest rooms with hot and cold water and showers, ice machine, a neighborhood laundromat, convenience store, post office, and bank a short walk away.
The international airport on St. Thomas is served by several major airlines and is under 10 minutes away -- you'll be on board before you know it. Or enjoy your first night dockside, surrounded by the sparkle and lights of downtown, festive party boats, and the grand cruise ships. Take a stroll to downtown Charlotte Amalie for dinner, a cocktail, a cup of coffee, or a variety of duty free shopping.
Then prepare yourself for a carefree sail aboard an immaculate vessel brought to you by CYOA.
Why should you book Free Luff with CYOA versus the thousands of other boats available in the Virgin Islands? Check out more about the advantages of the boat HERE, and check out our Travel Tips HERE
| | |
| --- | --- |
| | After a long year of research, phone calls, and emails, we ultimately asked CYOA to accept Free Luff into their charter fleet. It is not without great trepidation that one leaves their life dream in the hands of someone else to care for, but right off the bat we had a good feeling about CYOA and their capabilities. We're confident they'll take the best care of our boat and make sure you're taken care of, too. |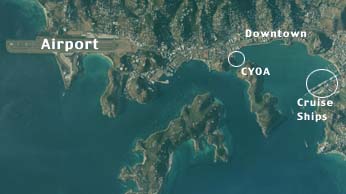 If you have questions about the boat, rates, availability, the virgin islands or an itinerary, feel free to email us!
Bareboat qualifications...
Keel boat experience is necessary to charter a bareboat. You will be asked for information about your sailing and boating experience as well as your travel plans. The manager of CYOA will review the information you supply on this document, and will determine whether you have the experience to charter. The goal is to be sure you and all aboard have a FUN and SAFE time.
Some of the elements in your experience that will be important in determining your competency to handle the boat you would like to charter:
* Your recent boating experience (last 5 years).
* The size and types of boats you have sailed in the past. Were they of similar size to the size of the boat you wish to charter?
* Have you owned a boat? This is important because most people who have owned boats have an understanding about systems and the inner workings of a boat, which is essential to happy cruising.
* Have you done some cruising? Have you planned a trip that would require navigation skills, decision making, anchoring, mooring or docking under sail and power?
* Have you sailed on the ocean or large lakes (Great Lakes)?
* Are you experienced in the operation of twin screw vessels. This is an important requirement to charter a trawler or a trawler catamaran and a slightly lesser important requirement for a sail catamaran. If you do not have any twin screw experience plan on spending at least a half day getting up to speed in this area before we let you leave the harbor.
* Who are the crew that will be aboard with you? Are they knowledgeable people that will be actively participating in sailing the vessel? Can you count on them to help you or will they be inactive guests?
* Have you had any professional or formal training? Have you cruised in the Virgin Islands before?
* The answers to these questions will help CYOA assess your skills and ability to take command of the charter boat.
* If your skills are a bit weak, CYOA may suggest a SKIPPER be aboard for a few days, or if you are not approved to charter, skippers are available for your entire cruise.
* A Bareboat Certificate is not necessary to charter a bareboat. A Bareboat Certification course is valuable training, however, this document alone may not qualify you to charter. Your overall practical experience is what counts!
Click here for an Application to Charter
(this is an Adobe Acrobat PDF file. Click here if you need to download acrobat reader. You probably don't)
After you've booked your charter, it's time to think about the little stuff:
(These are all PDF file downloads that you can print, fill out, and fax)
Provisioning Order Form
Beverage Order Form

Cruising Guide to Virgin Islands Discount Coupon

Skipper Information
Equipment list

Insurance issues
How to book...
Call CYOA's office, toll free at 800-944-2962 or send an email to info@cyoacharters.com, and check to see if Free Luff is available for the dates you wish to sail. CYOA will put a hold on Free Luff for 48 hours while you sort out your travel arrangements.
A 50% deposit and a completed Application to Charter are necessary to confirm your reservation. Deposits may be made with a credit card [download form now] or by check via overnight mail. Once your application has been reviewed and approved and your deposit is received, CYOA will mail a Contract Package to you. This package will include charter paperwork, provisioning forms [available for downloading] and general information about chartering in the area. Your final payment is due to CYOA 45 days before your charter starts.
Special deals require payment in full by credit card at the time of booking and are not refundable but you may change dates, subject to availability, for a $100 change fee.
2006-2007 Weekly Rates...

Sorry, but as of January 2007 we are pulling Free Luff out of charter service to live aboard full time.
Good news for us, bad news for you.
Or it would be bad news if you couldn't just get another geat charter boat from CYOA! Email them now or go to their site for more info...
Cancellations...
If your plans change, and it is necessary to cancel your charter, you must notify CYOA in writing. If you cancel 91 days or more prior to your charter, you will receive a refund less a $300 cancellation fee. If you cancel 90 days or closer to your charter, a refund is not issued. Trip Insurance may be purchased to protect your trip from unexpected emergencies. Contact ACCESS AMERICA at 800-284-8300 for more information.
If you would like to go directly to the CYOA website to see some other boats, just to confirm that Free Luff is the best choice (no, really!), Here you go: CYOA Yacht Charters, St. Thomas USVI