More Good Information from The Online Cruising Guide to The Virgin Islands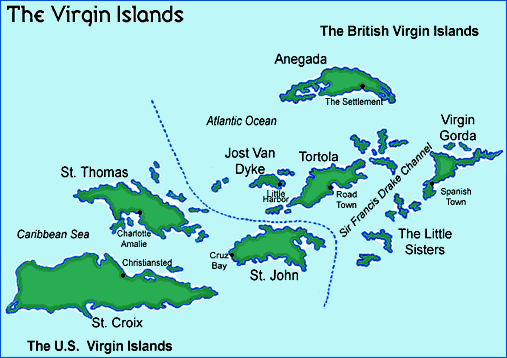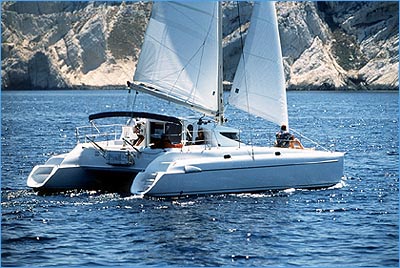 Each island has its own flavor, it's own unique mini-culture, and we plan to explore each of them in turn and give as good a rendering of their intricacies as we can in this space. Alas, as of yet we have limited time among the crystal shores and tiny towns that make up this fantasy archipelago. For now, take a gander at these glittering generalities and wait for more soon:
The Virgin Islands - Sailor's Paradise
Did you know that the water in the Virgin Islands is sparkling turquoise? The sky is crispy cobalt? The occasional cloud is fleecy white? The sun is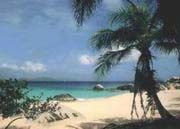 happy yellow? The beaches are sugary ivory and the crew are deliciously tan? This place is ridiculous!
The only real way to capture the color and romance of the Virgin Islands is to see for yourself! However, we've decided to give you a sneak preview, so please read on…
The Virgin Islands lie in the West Indies about 40 miles east of Puerto Rico. The typical Virgin Islands cruising area extends from St Thomas to the west to Virgin Gorda to the east, a distance of approximately 45 miles. The Atlantic Ocean meets our island chain on the north side, and the Caribbean Sea borders us on the south side. The larger i
slands within this area are: St Thomas, St John, Tortola, Jost Van Dyke, Norman Island, Cooper Island, Peter Island, and Virgin Gorda. There are many smaller and lesser known islands and cays. Just outside of this area are St Croix to the south, Culebra to the west, and Anegada to the north. Except for Anegada, the islands were born from volcanic activity, which means they are mountainous and picturesque. The beaches are white, sandy beaches, and coral reefs are active with abundant marine life.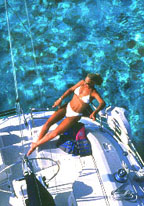 Sailing here is easy! Since the islands are close together, you'll be "island hopping". Navigation is by line-of-sight. The water is clear and you can usually see the bottom. Changes in the color of the water will also tell you a great deal about the depth and nature of the bottom. There is a minimal tidal variation (approximately 18" max) and no fog! The rain showers come and go, keeping the islands green. There is minimal commercial traffic compared to many areas you may sail. The people speak English and the currency is the U.S. dollar.
Where the weatherman gets bored! The Virgins are famous for year round cruising. The temperature ranges from 80's in winter to 90's in summer. The sea temperatures hover at 80, plus or minus just a hair. The prevailing winds are the tradewinds (from the east).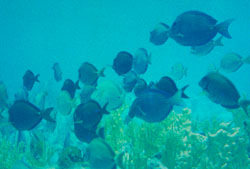 There's a slight wind shift to the north in winter with wind speeds of 15 - 20 knots. In the summer, the winds shift to east south east and blow10 - 15 knots. Christmas Winds are stronger winds that may blow for several days at a time, anytime from December through February. There really is no rainy season. We usually have short bursts of showers and blue sky follows.
Hurricane season - Due to the world's recent weather patterns, keeping an eye out for storms is a concern in areas that fall in the Hurricane belt. CYOA does not charter in the most likely months that these storms may pass (September and October). Though it is just as likely the weather may be perfect, we do not recommend planning a once in a lifetime vacation during this period of time.
We can assist with your itinerary planning. Since we know the area intimately, and have sampled many of the snorkeling spots, over night anchorages and on-island offerings, we'll be happy to make suggestions for what to do! We might not give away all the greatest spots to everyone who asks, but it sure is fun to hook up some people with the good inside scoop.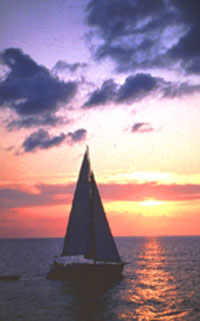 Island customs are important to be familiar with. If you understand a little about the people here, you will have a better time. These are low key islands where the pace is slow. People are laid back. Be dignified and respectful of their home. Slow yourself down. Leave the hurried, rushed, competitive elements of your own life behind, and better yet leave your laptop and cell phone home too! Slow down and relax - that's what vacation is about. Dress is casual, BUT please wear cover-ups in town, no bathing suits or micro-outfits, as you will not impress anyone. They are not appreciated. Save the skimpy outfits for the beach or your boat.
Customs and immigration - Since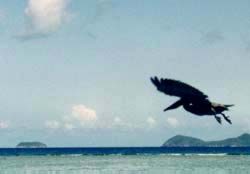 you will be visiting U.S. and British Islands, a passport is the best document for identification. U.S. citizens may use 2 forms of ID: a certified birth certificate and official photo ID or a passport. Please be sure you put this item on a checklist along with your plane tickets. U.S. citizens do not need to clear out of the U.S. when heading to the BVI. Everyone must clear into the BVI upon entering. This is done in West End Tortola or Great Harbor, Jost Van Dyke. Proper attire is required for visiting the Customs and Immigration office. All charter boats, regardless of origination pay a cruising tax in the BVI. You should budget this at $40pp/week and $50 for the vessel for the cruise. There are several elements that make up the cruising tax and that is why it is estimated. You may also purchase a BVI national parks moorings permit at this time. We recommend it. When returning to the U.S., a stop is necessary at U.S. customs. This is in Cruz Bay, St John, or more preferrably a five minute walk from CYOA back on St. Thomas. A stop for customs and immigration clearance usually is about 30 minutes and the locations are in spots that are enjoyable to visit.
ST THOMAS

U.S. Customs & Immigration offices are located in
Charlotte Amalie at the ferry terminal on the waterfront
(about a 10 minute walk from CYOA's base).

MARINAS:
Frenchtown Marina (Home of CYOA)
Crown Bay Marina, Yacht Haven Marina,
American Yacht Harbor, Sapphire Marina
NO PUBLIC MOORINGS
ST THOMAS IS HOME OF CYOA YACHT CHARTERS and a great jumping off point to the U.S. and British Virgins. Our base in Frenchtown is near excellent gourmet restaurants, pub-style eateries. and downtown Charlotte Amalie world class duty-free shopping. Spend a night on the dock or anchored nearby to enjoy the sights and lights of our busy Caribbean port. Some of the largest cruise ships in the world, the wildest party boats, and most elegant mega-yachts are part of the picturesque harbor.
If you need some last minute supplies, Crown Bay Marina is close by and has a full gourmet grocery, marine store, Cingular cell phone office, a secretarial office, and beauty salon. You don't have to worry if you "forgot something" - St Thomas has everything from trail mix to rib eye steaks, and bikinis to gold watches. The Pueblo Market is a ten minute walk, and you can taxi back to Frenchtown with all your supplies. This is a US style supermarket with everything you need, at reasonable prices too. Some of the brands might not be familiar to those stateside, but you'll find, as Mick Jagger says, "you get what you need..."
Water Island, the "4th Virgin", is in our neighborhood and has a pleasant anchorage at Honeymoon Bay, There's a quiet swimming beach and for the athletes, this island is great for walking, jogging and running, since there is no commercial traffic and only small paved roads.
------------------------------------------------------------------------
GREAT ST JAMES
NO MARINAS
NO PUBLIC MOORINGS
PLAN A FIRST OR LAST NIGHT stop in Christmas Cove. It is a short distance from our base and has pleasant swimming and snorkeling. It's a great location for a sunrise breakfast or sunset cocktails in the cockpit of your own boat. Sunbathe in the company of nature's favorites. There is a strong current running through Current Cut (duh.) So don't anchor too close. Pick up one of the moorings or anchor well in shore, but not between the small cay and St. James proper. Too shallow. Nice breezes here, or move on to St. John.
------------------------------------------------------------------------

ST JOHN

U.S. Customs & Immigration offices are located in
Cruz Bay, directly across the channel from
the National Park Headquarters.

NO MARINAS
Dinghy fuel available at Caneel Bay dock in Cruz Bay
PUBLIC MOORINGS: Caneel Bay, Hawksnest,
Maho Bay, Francis Bay, Leinster Bay, Cinnamon Bay,
Salt Pond, Great Lameshur, Little Lameshur
MOST OF ST JOHN IS NATIONAL PARK. There are excellent anchorages on the North and South sides of the island. Cruz Bay has a U.S. Customs & Immigration office for clearance purposes, and Cruz Bay has some of the best shops in the Caribbean (Be sure to visit Mongoose Junction, especially if you like artistic and exotic things). There is a variety of restaurants from fancy gourmet to ethic mix, Italian, Tex Mex, Pizza and pubs galore. Take your pick. On a busy might you may need reservations at some places - if you didn't plan ahead, just wander down the small streets to the next place. The town is tiny and most places are no more than a block off the waterfront.
Leinster Bay is a well protected anchorage with great snorkeling around Waterlemon Cay. The Annaberg Ruins are of historical and cultural interest. Caneel, Maho, and Francis Bays are also beautiful spots on the north side as long as the north swell is not up. Same goes for Cinnamon Bay, where there are only about 8 mooring balls and you can have the place mostly to yourself. It is exposed to the North if a swell is running, but provides great easterly breezes. There is a small store and restaurant at the park ashore, although prices at the store are a bit crazy ($6 Heinekins anyone?). Hawksnest Bay is also one of our favorites, as it is always uncrowded and lets you decompress after the busy rush of St. Thomas. On the south side, visit Salt Pond or Lameshur Bays, Hurricane Hole, or Coral Bay (where very laid back locals and funky bars are what 's up). You sense island time here, so kick back and go with the flow...as a matter of fact go with the flow throughout the islands. You are on vacation and island time is a real ting mon!
------------------------------------------------------------------------

JOST VAN DYKE

BVI Customs & Immigration offices are located
in Great Harbor near the public dock.

NO MARINAS
PUBLIC MOORINGS: Little Harbor, White Bay

IT IS EASY TO CLEAR BVI CUSTOMS and Immigration at Great Harbor. Plan on this taking about an hour, and bring crew to help fill out forms (or better yet, get the forms from CYOA before you leave and fill them out on board while the anchor settles. Then it can take as little as five minutes). The officials are very friendly, but not in a hurry. All in all, a pleasant experience if you are a pleasant person to deal with. The office is located right on the beach and a short walk down a sandy path brings you to Foxy's Bar. Around the next bend to the east you'll find Little Harbor. Dine and dance, eat lobster at Harris' Place or Sydney's. To the west is White Bay, a fantastic crescent of perfect white sand with two beach bars to choose from. We liked Ivan's, where you practically serve yourself and the cash register is a big jar on the counter. There is even a snow ski shrine out front (strikes us to the heart, you know). Everything is covered with shells, and the place almost forces you to slow down and relax. We sat on the beach in a short rain squall drinking Heinis. It was a rather tasty moment. Incidentally, if you pick up a mooring, you go here to pay for it (at least those on the eastern side of the bay). Beware of a slight rolling swell at times, but we found White Bay to be an excellent stop.

Snorkel and swim at Green Cay or Sandy Cay right off Jost to the East. These little islands are the ones you dream about (paradise found) with white sands and a few palms for shade, and a perfect lunch stop on your way to Cane Garden Bay or points further east. It should be noted that as of May 2003, it seems Sandy Cay has lost some prime coral areas to recent storms or anchor damage. It just doesn't seem to be the must-see snorkeling that it has been in years past. Green Cay deserves a closer look...

------------------------------------------------------------------------

TORTOLA

BVI Customs & Immigration offices are located in
West End at the ferry terminal.

MARINAS:
Soper's Hole Marina, Nanny Cay Marina, Village Cay Marina,
Marina Cay (fuel and water, no dockage).
PUBLIC MOORINGS: Cane Garden Bay, Fat Hogs Bay, Trellis Bay,
West End, Marina Cay

THIS IS THE LARGEST BVI ISLAND and Roadtown is the main town. You'll find several good grocery stores and a few shops with unique merchandise.

West End Tortola is the place to clear in and out of BVI Customs & Immigration if not doing so on Jost Van Dyke. There's a marina with many shops, Pusser's Restaurant, and the Jolly Roger pub is nearby.

On the south side, you may spend a night in Fat Hogs Bay. There's a good grocery store, a marine store, dive shop and a great eaterie called Eclipse at Penn's Landing Marina. On the north side of the island, a stop at Cane Garden Bay is always fun, and if you are here for full moon and want a wild evening out, the Bomba Shack is the spot (take a taxi from Cane Garden Bay).
Heading east you'll pass Guana Island, and Monkey Point (a great lunch and snorkel spot). Plan to spend a night at Trellis Bay and dine at Da Loose Mongoose (Sunday is BBQ and music night) or the famous Last Resort (every night is a show that is unique with full buffet dinner - check in on the VHF or go ashore to make a reservation and confirm the time. There is only one seating). If you don't stop in Trellis Bay, head to Marina Cay where there is a lively Pusser's Restaurant, or just across on Scrub Island you'll find quieter dining at Donovan's Reef. If all of these areas seem a bit crowded for your tastes, consider Long Bay, just to the west of the airport. The beach is gorgeous, and we've had the place all to ourselves!
You're almost guaranteed to sail through the cut at West End, so stop in at Soper's Hole if you need anything (Pusser's Store on site : ) Prices are a bit high, but you're paying a bit for the view. This place is quaint and gorgeous, and what a blast to sail into! Cute cafe back behind the main waterfront to the east too, although the name escapes us at the moment.
------------------------------------------------------------------------
VIRGIN GORDA
MARINAS:
Virgin Gorda Yacht Harbor
Limited facilities:
Bitter End, Saba Rock, Leverick Bay
PUBLIC MOORINGS:
Spanishtown
North Sound - Bitter End / Prickly Pear / Mosquito
A NIGHT IN A MARINA to refresh the crew, provisions, water supply etc. may be a good thing. Virgin Gorda Yacht Harbor is a lovely facility with shops, casual dining in the marina, or tasty dinners just up the street at Chez Bamboo (Monica is a great chef and there is music some nights too).
Explore the Baths! It is best to start at the marina and take a short taxi ride or hike (about 2 miles) to The Baths for a swim and snorkel. When the north swell is up or the tradewinds are strong, you won't be comfortable on a mooring and you may swamp your dinghy trying to go ashore. As of spring 2005, it looks like they don't really let dinghies ashore at all anyway. You can still drop off in the shallows, but you have to tie off to the dingy moorings about 30 yards off shore. We prefer to snorkel in from the boat. It's a gorgeous scene in and among the huge boulders. Fish and rays everywhere...
North Sound is a for-sure stop. Eat and drink at the Bitter End, Saba Rock, or the low key Fat Virgins at Biras Creek (with a name like that, how can you pass it up). Explore the area by dinghy and visit the Sand Box on Prickly Pear. If you want to try windsurfing, this is an ideal location. Top off your provisions, water, or dinghy fuel at the Bitter End or Saba Rock Dock. There is great anchoring and snorkeling in Eustachia sound on the north east side.

COOPER ISLAND
NO MARINAS
PUBLIC MOORINGS: Machioneel Bay
MANCHIONEEL BAY is home of the Cooper Island Beach Club, casual dining, and a great beach to hang out on. Be sure to plan an early arrival. This is a popular anchorage and the moorings are taken early. There is limited space for safe anchoring.
------------------------------------------------------------------------
SALT ISLAND
NO MARINAS
NO PUBLIC MOORINGS
THE WRECK OF THE RHONE lies off Salt Island and has been a favorite of divers for decades. Many dive shops in the BVI offer "Rendezvous Diving". This means you schedule a dive with them and they meet your boat at the designated anchorage, gear and all. If you are only planning a few dives during your charter, this is the way to go. No extra gear to find storage room for below and no worrying about having enough water to rinse it off, and no need to plan your trip around shops and fill stations. Give Blue Waters Divers in Tortola a call on the radio and plan ahead. Salt Island is well known for "salt". You'll find it in several shops throughout the BVI, and it is truly a unique and natural souvenir.
------------------------------------------------------------------------
GINGER ISLAND
NO MARINAS
NO PUBLIC MOORINGS
Ginger Island does not have any marinas or suitable anchorages. It is the last of the larger islands in the chain before reaching Round rock, Fallen Jeruselam and the Baths on Virgin Gorda.
------------------------------------------------------------------------
PETER ISLAND

MARINAS:
Peter Island Yacht Club
PUBLIC MOORINGS: Great Harbor

PETER ISLAND YACHT CLUB offers slips, water, ice, fuel and elegant dining!. This is one of the few establishments in the Virgins that has a dress code and requires a jacket for gents and reservations. If the weather is right, anchoring off Deadman's Bay on a calm day is spectacular and a perfect spot for dinner aboard your own boat. Great Harbor is also a beautiful spot, with public moorings at both the innermost east end and the western shore near a funky out-of-business-looking joint. We liked this spot because it was free, and the breezes were excellent. Great spot to catch a crazy island sunrise too!

------------------------------------------------------------------------

NORMAN ISLAND

NO MARINAS
PUBLIC MOORINGS: The Bight - They are available, although all moorings inside the bight are subject to fees from Pirates or another operation. Only the red buoys at the Caves outside the bight are National Parks moorings, and day use only. There is another string of mooring balls outside the bight to the south in Privateer Bay. This is an EXCELLENT spot, quite secluded, with minimal noise and no swell. You still have access to the bight by dinghy to go to the Willy T to party, and the caves are just a couple hundred yards away. Fantastic.

RUMORED TO BE THE "TREASURE ISLAND" of Robinson Cruscoe fame, The Bight is a favorite stopover. Wine and dine at the William Thornton II floating restaurant for steaks, fish and rotis, and sometimes a wild time. Or visit Pirates, another popular shoreside watering hole, where you'll find everyone who isn't at the Willy T.

Snorkel the caves on Norman, a unique spot and favorite of pelicans. The Indians (a great day-time stop) not too far away, offer great snorkeling and diving. You'll see some spectacular views of St John from this location and a dramatic view up the Sir Francis Drake Channel.

-----------------------------------------------------------------------

ABOUT PUBLIC MOORINGS:
Moorings in the USVI are in National Park Waters. The mooring program here is fairly recent. At the present time, there are no fees for their use. We expect fees to be implemented soon. Check with our staff during your chart checkout for an update.

Moorings in the BVI are $20/night.
MOST PUBLIC MOORINGS ARE LABELED "MOOR-SEACURE"***. This is the name of the company that installed these moorings. (Moorings without the MOOR-SEACURE label are private, and should not be picked up.) The fees are collected by local businesses (usually restaurants). The name of the business handling the moorings is usually painted on the mooring ball itself. It is best to check in with the establishment on shore and pay your fee. In some bays, a representative from the establishment will dinghy out to the boats in the anchorage and collect fees.

The orange bouys around the snorkelling areas in the BVI are National Park moorings, and you are supposed to have a permit. It runs about $25, and lasts for the length of your stay. We've never been asked for ours by any authority, but the funds go to maintaining the moorings and reef restoration. Seems like the right thing to do...

***Note: at The Bight on Norman Island, public moorings are not by Moor-Seacure. There are conical shaped markers for moorings managed by Pirates, and round markers for moorings managed a different company (may not be labeled).

Home
The Boat
Book Your Charter
About Us
Maps, charts, stories, photos
Travel Tips